What is
SavePin

Pinterest Video Downloader?

Are you tired of endlessly scrolling through Pinterest, only to be disappointed by the lack of a download option for the videos and photos you want to save? Look no further than SavePin, the ultimate Pinterest video downloader!

SavePin is the widely used Pinterest video downloader. Pinterest is amongst the most famous platform where you can share your videos and photos. SavePin is an online tool which let you download Pinterest Gif's, videos and images. We all explore pinterest stuffs and want to save them over our devices so here we have built the best pinterest to mp4 converter tool for you.
Features
SavePin is packed with exciting features to make downloading your favorite Pinterest videos a breeze.
With 720p and 360p Quality Resolution options, you can choose the best video quality for your needs.
Downloading videos has never been faster or easier with SavePin's user-friendly dashboard and instant download capability.
No need to install any software.
SavePin is totally safe, secure, and compatible with all devices.
Allows you to instant download
SavePin Pinterest Video Downloader is device friendly and have a user friendly dashboard
How to Save Pinterest Videos?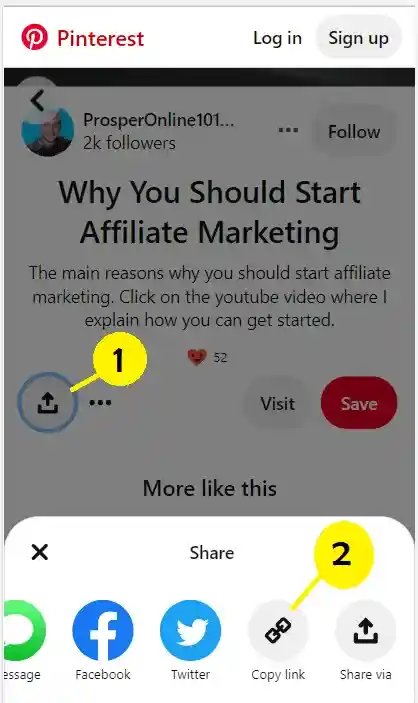 Step 1
Copy the URL of the Pinterest video you want to download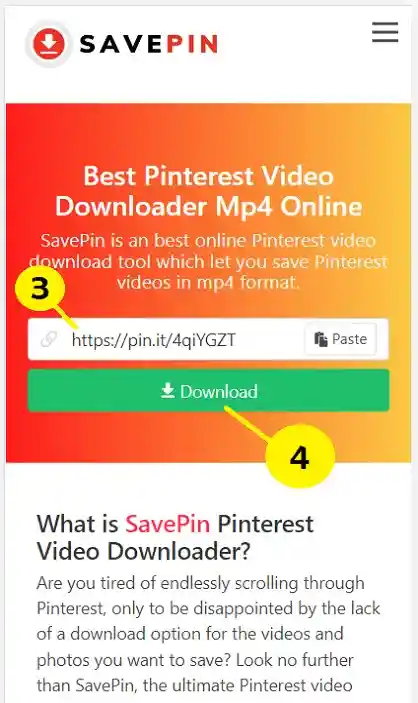 Step 2
Paste the URL into the Savepin tool and hit "Download"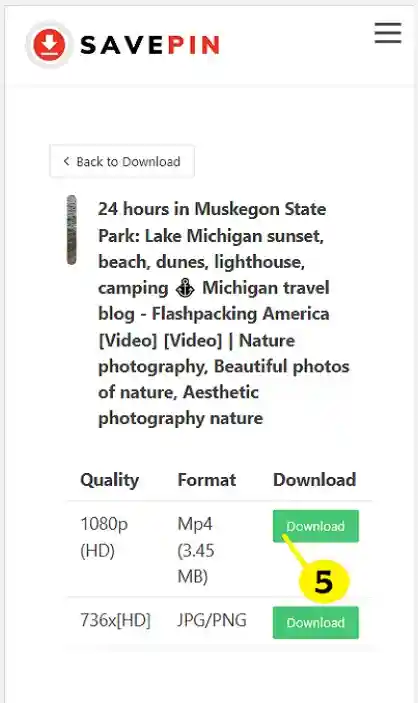 Step 3
Choose the desired video format and quality. The video will start downloading immediately, and you can watch it anytime, anywhere!
How to Copy the Link & Download a Video from Pinterest.com?
To download a video from Pinterest, follow these steps:
Open Pinterest and use the search bar to find the video you want to download.
Click on the video to open it.
Copy the video's link from your browser's address bar.
Example Pinterest Video Links:
https://in.pinterest.com/pin/785385622512055661/
https://pin.it/4qiYGZT
Now, visit the SavePin tool and paste the copied link into the search bar.
Click the "Download" button, and the Pinterest video will be downloaded to your device.
Features of downloading Pinterest videos using SavePin
| | |
| --- | --- |
| ✔️ Quality: | 👌 Original, HD |
| ✔️ Download Speed: | ⚡ Fast |
| ✔️ Download Limit: | ♾️ Unlimited |
| ✔️ Cost: | 💰 Free |
SavePin Performance and Achievements
42

Million
Total Downloads: 42 Million and Counting
1.5

Million
Active Users: Over 1.5 Million Monthly
99.9%
Successful Downloads: Achieving an Impressive 99.9% Success Rate
2

Seconds
Average Response Time of Just 2.5 Seconds
Operating Systems Supported by SavePin
SavePin is a pinterest video download tool and save online content such as videos, images, and GIF. It supports a variety of operating systems, including:
✔️ Windows: SavePin is compatible with Windows 7, 8, and 10 operating systems.
✔️ macOS: SavePin can be used on macOS 10.12 (Sierra) and higher versions.
✔️ Android: SavePin is available on Android 5.0 (Lollipop) and higher versions.
✔️ iOS: SavePin can be used on iPhones and iPads running iOS 11 and above.
✔️ Web: SavePin can be accessed through web browsers such as Google Chrome, Mozilla Firefox, and Safari.
Why You Should Use Our Pinterest Downloader?
There is always an urge to download the videos and gifs from the Pinterest. It is the most famous platform which shows us the most attractive images, interesting videos and Gifs. Our Pinterest video downloader is the best online tool where you can easily convert pinterest to mp4 the Pinterest videos.
SavePin provides the best Pinterest downloader online. Here you can download your video anytime with so much ease. We do not ask to download any software like other online tools. It works on all browsers and your video will be instantly downloaded on your device.
FAQ
What is SavePin?

SavePin is a website/tool that allows users to download videos from Pinterest.

Is SavePin free to use?

Yes, SavePin is completely free to use.

Can I download any video from Pinterest using SavePin?

You can download any public video from Pinterest using SavePin.

Do I need to create an account to use SavePin?

No, you do not need to create an account to use SavePin. You can simply visit the website and start downloading videos.

How do I download a video using SavePin?

To download a video using SavePin, you simply need to copy the link to the Pinterest video you want to download and paste it into the input field on the SavePin website. Then, click the "Download" button and the video will be downloaded to your device.

Are there any limitations to using SavePin?

SavePin does not impose any limitations on the number of videos you can download. However, it is important to note that downloading copyrighted material without permission is illegal.

Is it safe to use SavePin?

Yes, it is safe to use SavePin. The website does not require any personal information and does not install any software on your device.

Can I download Pinterest videos on my mobile device using SavePin?

Yes, SavePin is accessible on mobile devices and you can use it to download Pinterest videos on your phone or tablet.

What formats are available for downloading Pinterest videos using SavePin?

SavePin allows you to download Pinterest videos in MP4 format.

Does SavePin have any browser extensions?

No, SavePin does not have any browser extensions at the moment. You can access the website directly to download Pinterest videos.

How long does it take to download a Pinterest video using SavePin?

The time it takes to download a Pinterest video using SavePin depends on the size of the video file and the speed of your internet connection.

Does SavePin track my downloads or collect any personal information?

No, SavePin does not track your downloads or collect any personal information. The website only uses cookies to improve the user experience.

Can I download Pinterest videos that have been deleted or made private?

No, SavePin can only download public Pinterest videos. If a video has been deleted or made private, it will no longer be available for download.
Article You Should Read
---
User Rating
4.7 average based on 38,759 reviews.